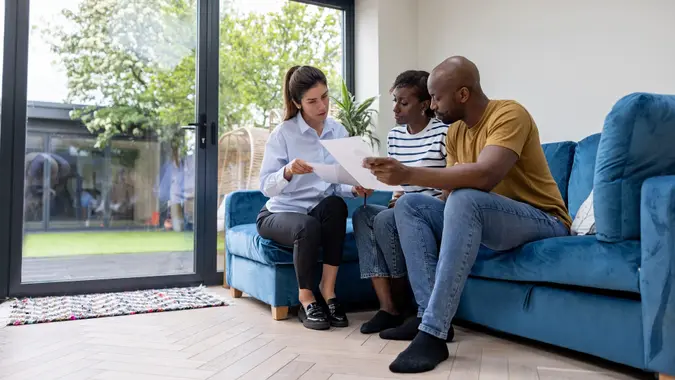 andresr / iStock.com
Mention the phrase "real estate career" and most people think of sales agents, but that's just one of many paths you can take in the real estate industry — and it's not the most lucrative. In fact, sales agents earned a median salary of $61,480 per year as of May 2021.
Considering that agents are self-employed workers who pay extra withholding tax in addition to business expenses and don't receive employee benefits, it's clearly not the easiest way to earn a living. However, you can leverage your interest in real estate and enjoy employee benefits by going to work for a company that owns and manages real estate as a real estate investment trust, or REIT.
What Is a REIT?
A REIT is a company that owns real estate and real estate-related assets and allows investment by individual investors. Many are registered with the Securities and Exchange Commission and are publicly traded on a stock exchange, such as the New York Stock Exchange or Nasdaq.
Investors like REITs because they make it easy to invest in real estate without having to buy and manage their own property. And for workers, REITs present an opportunity to be involved in the purchase and management of real estate in just about any industry you can imagine, from leisure and hospitality to healthcare, retail and storage.
Can You Make a Living on REITs?
Yes, you can make an excellent living working for a REIT. What that means in terms of a specific salary depends on your job and factors like education and experience, your location and how competitively the company pays.
Best Paying Jobs in Real Estate Investment Trusts
GOBankingRates analyzed job listings and salary data from the U.S. Bureau of Labor Statistics and other sources to find the best-paying jobs in REIT companies.
1. CEO
CEOs run the show in whatever kind of company they helm, providing the overall direction for the organization and ensuring goals are met. They oversee other executives, such as chief operating officer, chief financial officer and chief human resources officer.
The median annual wage for a CEO is $179,520, according to the BLS. That salary puts them well ahead of other top execs who work in professional services — they earn a median $127,110.
2. Sales Manager
Sales managers earn a median annual wage of $127,490, but the median earnings jump to $161,920 for sales manager jobs in finance. In the context of a REIT, individuals in sales roles are responsible for bringing in investors to fund projects. The focus is typically on institutional investors and requires participating in the development of marketing materials, maintaining relationships with investors and developing strategies for the REIT's products.
Pre-requisites for sales roles are less specific than for some other REIT jobs, but employers like to see experience in real estate, finance-related sales, investments and investor relations. Depending on the REIT, private equity experience might also come in handy.
3. Financial Risk Specialist
According to the BLS, financial risk specialists who work in financial investments and related activities earn an average of $100,000 per year, and up to $171,000 for those in the 90th percentile, making this job one of the highest-paid jobs in REIT companies. Commercial insurance professionals could be a good fit for this role, but real estate experience is a major plus. A specialist works with the REIT's insurances programs and claims, as you'd expect, and they may also coordinate with property management to establish operational safety procedures.
To snag a high-level risk management role devising and implementing risk strategies, you'll need years of experience in commercial insurance and workers' compensation and a bachelor's degree or equivalent experience in a related field.
4. Investor Relations Manager and Client Relations Manager
Whereas sales professionals bring the clients in, relationship managers focus on client retention to increase revenue and support sales goals. They serve as their clients' partners, anticipating their needs and identifying opportunities to create an excellent experience that inspires loyalty.
Investor relations and client relations managers have solid earning potential — They average $126,993, according to Salary.com. To qualify, you'll need experience in commercial real estate and account management, plus a bachelor's degree or equivalent experience.
5. Investment Analyst
You could make up to $124,020 a year as an investment analyst working in a REIT. As the title suggests, analysts perform financial analyses on assets acquired or disposed of by the REIT and project cash flows and investment returns. They also prepare financial statements and pro forma models A job opportunity posted by WashREIT in Washington, D.C., includes the preparation of tenant notices and marketing packages for brokers in the list of responsibilities for its analysts.
Employers expect REIT investment analysts to have a bachelor's degree in a relevant field plus experience in commercial real estate, investing and asset management.
6. Accountant
If you have the proper credentials and love crunching numbers, you could be a good fit for an accounting role at a REIT. Accountants working in financial investments and related activities earn a median salary of $77,250, upwards of up to $128,970 in the 90th percentile.
General REIT accounting jobs are plentiful, and specialty positions for tax and project accountants are also available. A general staff accountant is responsible for accounts payable, journal entries, account reconciliation, preparing financial statements, managing vendor invoices and assisting with tax returns.
A bachelor's degree and accounting experience qualify you for many REIT accounting roles. However, employers might look for CPAs or attorneys for higher-level and other specialized positions.
7. Asset Manager
Asset managers earn up to $103,462, according to Salary.com. Their role is a complicated one that includes making sure the properties in their portfolio achieve financial and operational goals while complying with U.S. Securities and Exchange Commission and other financial regulations that govern REITs. Analysts may oversee property management and lease administration and collaborate with other managers on budgets and capital projects.
You'll need years of commercial real estate, asset management or accounting experience to be hired as an asset manager. Those who work with government contracts might also need security clearances. While you can qualify for a position with a four-year degree, a graduate degree will open more doors.
Is Investing in REITs a Good Career Path?
You can easily earn a six-figure salary with a REIT job, especially if you have the experience to land a management role. But those aren't the only good jobs you'll find at REITs. Opportunities also exist for service managers who can earn nearly $100,000 per year for overseeing facility maintenance and repairs. Property and community managers are also in demand. They earn a median income of $59,230 per year, although professional certification like the one offered by the Institute of Real Estate Management can qualify you to earn significantly more.

Our in-house research team and on-site financial experts work together to create content that's accurate, impartial, and up to date. We fact-check every single statistic, quote and fact using trusted primary resources to make sure the information we provide is correct. You can learn more about GOBankingRates' processes and standards in our editorial policy.

link